"Always put your customers first and your business will last". That is the advice my father gave to us in 1990, when we started Sunshine Air Conditioning, Inc. This advice has been the filter by which our entire company vision is built. All of our business decisions hinge on these few words.
We give our customers the best service possible. Our employees have the best training, tools and the finest equipment available.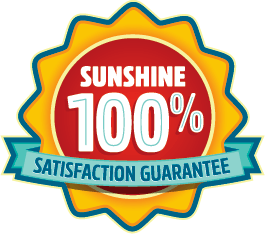 This philosophy has been the foundation of our service. Our appointment scheduling is based solely on our customer's convenience. We are commited to installing only the best products. We stand by our 100% customer satisfactionguarantee. Our vision will continue to include the highest standards in our business. Please take a moment to view our list of certifications.
Sunshine Air Conditioning, Inc. is centrally located in Belleview. We service Lake, Marion, Sumter and Citrus counties. Our services include air conditioning, electrical, design, sales, new installation, maintenance, repairs and replacements. Please take a moment to view "Our Sales Process"
Our client list includes homeowners and builders. Our reputation is rock solid. If you are a homeowner looking for air conditioning service or an electrical contractor or if your company needs a reliable, knowledgeable, competitive sub-contractor, please contact us today!