Join The Comfort Club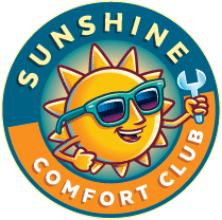 Sunshine Air Conditioning, Inc. is always dedicated to providing the best quality service to our customers. With our new Comfort Club options, we are certain there is a plan that will fit perfectly for everyone. Please see the descriptions of the extras below to help you decide on the Comfort Club option you would like to have for your family's home air conditioning needs.
Priority Service: With Priority Service you will always receive the fastest response with the added benefit of moving ahead of non-priority customers to receive same-day service. This feature also gives you the added security of having your next cleaning scheduled before we leave. Never lose out on your next date – all levels of Comfort Club Members receive pre-scheduling for their next cleaning to help keep you on track with your appointments.
E.Z. Flow Treatment: A drain line additive to help in preventing back-up is added to all cleanings at no extra cost to you.
No Overtime on Nights, Weekends, or Holidays: For Elite Comfort Club members, the diagnostic fee is waived completely on all mechanical failures with the completion of the repair.
Drain Line Clearing: With the excessively humid summers of Florida, Elite Comfort Club members paying for 2 annual cleanings will rest a little easier knowing that if your drain line gets backed up, Sunshine Air Conditioning will come out once at no charge during your contract period to clear the line.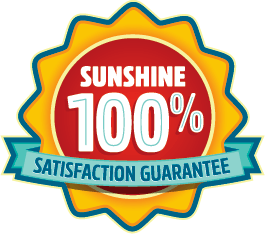 10% Discount: Elite Comfort Club members will save 10% on all parts and labor accrued during a service call. This option has the potential to save you hundreds of dollars annually.
Parts & Labor Warranty on Repairs: With any of our Comfort Club options you will receive a 1-year Parts & Labor warranty on any mechanical part that we replace. Elite Comfort Club members will receive a 2-YEAR PARTS & LABOR WARRANTY on any mechanical part we replace.
Bonus Bucks: Bonus Bucks are a great way to save for your future. Please ask us how to accrue bonus bucks for future system purchases!