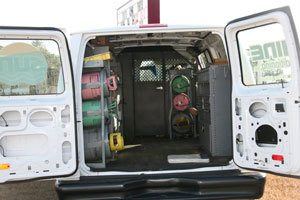 The employees of Sunshine Air Conditioning, Inc. are committed to providing you with the highest level of customer service, care, and respect. With that in mind we have developed this code of ethics which we are proud to present to you.
1. All employees will respect and care for the homes and possessions of our customers as if they were their own.
2. All customers will be treated with respect, listened too and be kept informed of work that is being done.
3. All employees will be neat in appearance, look professional and dress properly for work that is being performed.
4. Protective shoe coverings will be worn or shoes will be removed prior to entering customer's homes.
5. Employees will not park in customer's driveway.
6. Employees will not smoke or chew tobacco products in or around Customer's homes.
7. Employees are committed to the highest quality and integrity of workmanship.
8. Employees will conduct themselves in a professional manner at all times, adhering to the Sunshine Air Conditioning standards of conduct with regard to performance, safety and personal conduct.
9. Employees will avoid actual or apparent conflicts of interest by declining to provide personal service or perform any business with homeowners that is not contracted with Sunshine Air Conditioning, Inc…
10. We are proud to be a drug free work place!
11. Employees are committed to maintaining product knowledge, procedures and codes through regular continuing education and training.
12. All jobsites are protected with drop cloths, left neat, clean and restored to its original condition/appearance.
13. Our number one goal is 100% CUSTOMER SATISFACTION!!
$25 OFF

Your next diagnosis

Cannot be combined with other offers. Please contact Sunshine Air Conditioning, Inc. at (352) 448-1712 for more information.

Carrier Cool Cash Rebates up to $1,650

Homeowners may qualify for a Cool Cash rebate by purchasing qualifying Carrier equipment between March 15, 2021, and June 30th, 2021.

Cannot be combined with other offers. Please contact Sunshine Air Conditioning, Inc. at (352) 448-1712 for more information.

Expires: 06/30/2021